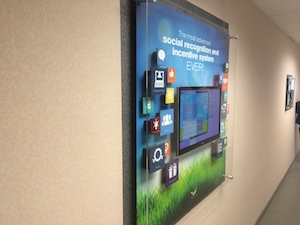 What: Next time you're considering using a video display in your lobby, conference room or lunchroom consider this solution.
One of our clients created a video presentation and wanted to display it on a monitor in their client presentation area. Needing to create a more lasting impression, they created a graphic surrounding the monitor. The graphic had visuals and icons seen in the video. This makes great sense in that the always-present graphic elements serve to reinforce the message presented in the video.
We constructed the display you see in these images. It consists of a monitor embedded in a larger graphic board.
How: Our Wide Format guru's solution was to create one easily installed display. First we found a material strong enough to support the monitor. Then, we printed the base image directly to this base substrate. We cut an opening in the substrate to recess the monitor and attached it to the substrate.
We produced the icon elements separately from the base substrate. Inkjet prints were produced and mounted to materials of varying thickness to add dimension and depth to the display.
Why ASAP:
Creative Solutions - We take time to understand the client's desired outcome. It is important for us to understand what your goal is. We feel, given the opportunity to contribute, that we can help the process achieve, and exceed, the desired result.
Engineering for Results - The ability to find the right material and build it to achieve the outcome. Creating one piece, anchoring the monitor to the graphics made for a simple installation. The availability of production options is key; inkjet devices printed the icon elements, a UV press was used to print on the base substrate, and digital die cutting/CNC capability for precise positioning of the monitor. The construction of this display was elegantly simple -- evidenced by the fact it was installed in less than half an hour.
A Company for Custom Solutions - We produce one-time, one - off communications projects. Big printers will tell you they can do it all and handle all your needs. They can't. They just aren't set up to handle quick-hitting, ad-hoc, one-time projects. We are. It's our bread and butter.