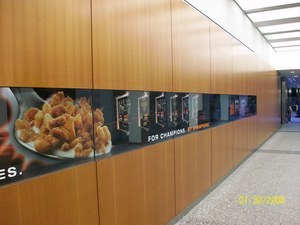 What: Wide Format Production—The production and installation of wall graphics and other elements in the main hallway at the entrance of their world headquarters.
How: ASAP met with several parties to discuss the space and message the graphics needed to convey. We evaluated the look and outcome they desired to achieve and proposed certain wide format products. ASAP produced the graphics and scheduled our personnel to install the entire wall "after hours" so that it was ready the next day.
Why ASAP:
1. Wide format production tools. Our high-end print capabilities and our digital die cutting capabilities can create unique shapes needed for this project.
2. Flexibility--installation capabilities that could accommodate the need to do the work when employees were not around.
3. Certainty--the ability to hit a deadline. This means coordination with designer (who was preparing files), client (who had to have multiple individual's approvals) and client's facilities staff. Many parts to coordinate within a tight time frame.