Who: Chevys Restaurant, just south of the Mall of America in Bloomington, Minnesota
What: Remodel of the restaurant. Remodeling included a complete revamp of the interior's walls. A designer developed beautiful imagery and artwork fitting with the restaurant's light, lively atmosphere. ASAP was asked to print and install wall murals and prints throughout.
How:Once ASAP received proofs of the artwork from the designer a site visit was conducted. The restaurant was evaluated to confirm all dimensions and identify any potential issues. The walls, fitting with an adobe brick exterior, were extremely uneven. This required hardware that could vary in depth and solidly anchor to the wall (able to handle the guests touching the prints). A substrate that could easily be washed and cleaned was also necessary.
Using ASAP's UV printer, elements were printed directly to an adhesive vinyl which was then mounted to a dibond material. Stand off fixtures were used so they could be custom cut to accommodate the uneven walls. ASAP installed all graphics over a period of a week in the morning before the restaurant opened.
Why ASAP: We're known for our unique solutions. At the completion of the restaurant owner Greg Komen was extremely pleased. He remarked that the new prints and artwork looked fabulous. Check out these photos. Better yet check out the restaurant, its farm fresh, made from scratch every day food. It's great!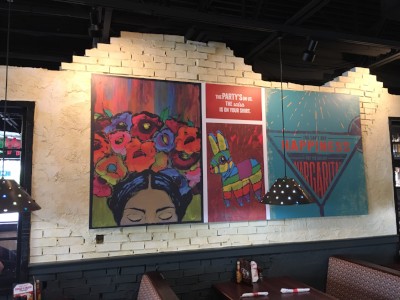 Chevys Prints