Wide Format Solutions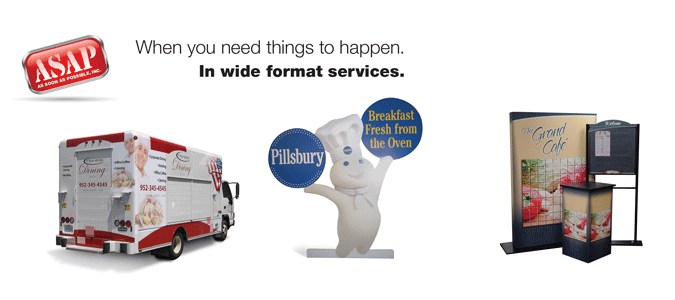 You need to be effective with the opportunities you have to present your message. Wide format solutions are a tool you can't afford to ignore.
ASAP has the production capabilities to put your message into large form. Think about events, new product roll-outs, meetings, trade shows, your corporate environment (inside and outside) all are areas where you can present your message in a form that stands out and which people can see.
We also have the ability to create mock-ups, prototypes and short-run packaging. Nothing conveys a message better than a physical representation-it can be held, felt, examined from many angles. Mockups are very effective in winning the day.
Our expert, talented staff can produce amazing results for you. We engineer projects and develop solutions for a unbelievable range of situations.
• Posters & Banners
• Pop-up Displays
• Mockups and Packaging Prototypes
• Trade Show Graphics
• Wallpaper and Wall Noodles
• Standees
• Event Graphics
• Installations
---